Junk Removal - Fort Collins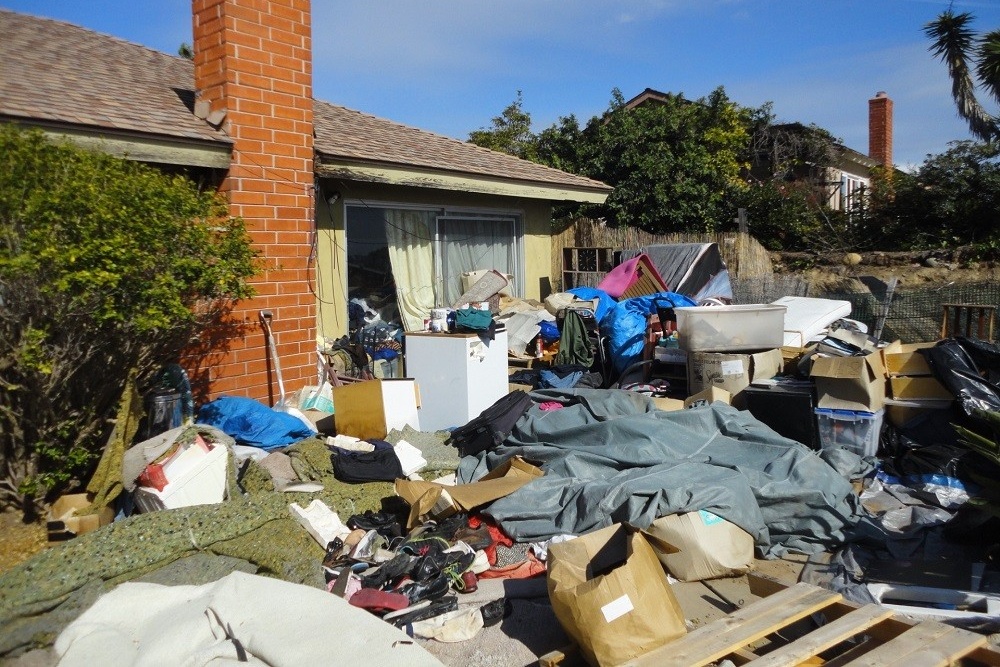 We will take anything and everything you don't need as long as it won't' hurt us or the environment. Things like bio waste, chemical waste, and other hazardous materials need to be disposed of by a specialized service. All other items, from household materials to construction materials and yard waste are safe for us to take. When we get to take your stuff, you can be sure that we will dispose of it in the most eco-friendly manner possible.
What to expect from Fort Collins Junk Removal
When you give us a call, we will always keep these things in mind:
You want to feel secure. We understand that anything that happens on your property, including accidents, could get you in trouble. At Fort Collins Junk Removal, we are fully trained, insured, and licensed.
You deserve the highest quality service. We do everything possible to give you the best quality service every time you call. Stress-free, efficient service is what you deserve, and we will never settle for anything less.
You deserve to make your own decision. We know how irritating pushy sales reps can be, and we never do that to you. We want you to feel relaxed and understand what to expect before we start working. To give you this peace of mind, we give you a quote before we begin any work.
You want to be free. Junk and unwanted items can turn our world upside down, and it is our job at Fort Collins Junk Removal to haul all your stress away.
Benefits of choosing Fort Collins best junk removal company
We know dozens of junk removal companies offer the same services as we do, so why should you choose us above the rest? We can list dozens of reasons, but here are just a few.
We take care of our team and ensure that they are fully licensed, insured, and bonded. You and your home could never be in better hands.
EMERGENCY SERVICE. When you need your junk removed ASAP, we are here to take care of it. We offer same day and next-day service for clients who need it.
NO PRESSURE. When we give you a quote, it is free and non-obligatory. You always know what you are signing up for and what you will pay. There are no hidden fees. Our team will let you know the details of all our prices before starting.
ENVIRONMENTALLY FRIENDLY RECYCLING AND DONATION DROP-OFFS. When you hire us to get rid of your junk, you are hiring a group of professionals who cares not only for you but for the environment. We recycle up to 70% of the waste we haul from our clients, which makes us the number one eco-friendly junk removal company in Fort Collins.
ENJOY THE EXPERIENCE: We guarantee that you will enjoy the experience of having us get rid of your junk and will call us the next time around. Fort Collins Junk Removal services has a crew that is friendly and courteous.
When you decide to team up with Fort Collins Junk Removal, there is a wide range of services you can use us for.
Yard waste cleanup service
If you are a DIY lover who has accumulated junk over your yard, you can give us a call to clean-up. Our team is the best yard waste clean-up service in the Fort Collins area. When you find yourself with tons of yard waste because of a long day of tree cutting and weed pulling, let our team do the dirty job for you. Our Fort Collins junk pick-up team will take all sorts of yard waste including heavy branches, bushes, grass, or weeds out of your yard. Send us a photo of your yard and let our team give you a free estimate.
Trash disposal and garbage pick-ups
When you have waste that you can't recycle and need to dump it in the landfill, let our team get the job done. We'll show up with one of our trucks and even do the loading for you! Unlike garbage companies with many rules on how they will collect your trash, our team will manage your junk for you. Whether it is waste, furniture, or even old electronics, we will go the extra mile until you are satisfied. 
Used equipment, spare parts, and scrap fabrication material can be challenging to get rid of. But not if you hire our Fort Collins junk removal company. We can get rid of significant items like TV antenna towers and metal roofing! Our company is insured and licensed so you can relax while we safely get rid of those sharp and rusted metal objects for you. Our charges for scrap metal disposal depend on how much space the junk takes in our truck, so feel free to call us beforehand, and we'll have a free estimate ready.
Renovation debris removal service
When your excellent renovation project is done, you will be left with a lot of scrap materials. Count on us to admire your hard work and haul all the unsightly trash so you can truly appreciate your job well done. We want you to enjoy your project, so we'll get rid of the left over materials as soon as possible. Our crew will remove things like pipes, shingles, old wiring, flooring, appliances, tubs and showers, lumber, drywall, countertops, sinks, and anything else in the way of your project. For the best construction debris removal service in Fort Collins, give us a call.
Office equipment disposal service
You can't upgrade your office without getting rid of your current equipment. That is where we come in. If you need to remove office chairs, conference tables, couches, desks, computers, or other office equipment, give our team a call.  No matter how big or small your clean-out job is, we are available. Our team will either donate or recycle your used items so you can create the office space of your dreams.
Mattresses have a useful lifespan, and when usefulness has expired, disposal isn't that easy until now. Our Fort Collins mattress removal service does all the hard work for you from squeezing that mattress in tight hallways or climbing stairs; our team does it best. We specialize in eco-friendly mattress removal. If no shelter wants your bed, we will get rid of it in an environmentally friendly way.  So if you have an old bed you've been dying to replace, give us a call, and we'll come and get it.
Ready to install a new hot tub but don't know how to get rid of the old one? Give us a call! Our Fort Collins hot tub removal services will remove and dispose of your old hot tub in mere minutes.  We'll assess the container noting its size and shape, and then map out the best route to get it out of your property. With your signal, we'll load the tub and any other debris into our truck and viola! Done!
Home junk disposal and recycling
Have a junk problem in your home or trying to help a hoarder? Our junk removal team has the best stress-free solution. We will not only get rid of that bulky item that you can't lift on your own, but we'll gladly help you de-clutter and haul away anything that you wish. So when you need help getting rid of home junk such as appliances, furniture, mattress, or scrap metal, give us a call and tell us your junk hauling needs.
Garage clean-out services
Has your garage turned into a junk shop? Let us help! Our garage clean-out team in Fort Collins will make sure you regain the garage space you once had. All you have to do is show us what you want to remove, and we'll do all the heavy lifting and hauling for you. Our team can easily recycle things like old lumber, rusted tools, old appliances, and outgrown clothes. Give us a call and let us schedule you for the best Fort Collins garage clean-out service.
Furniture donation and disposal
Are you set on getting modern furniture but can't because you have an old piece taking up too much room? Let our team of professionals haul it away. We'd love to help you get rid of old pieces of furniture so you can upgrade your home with a modern touch.  We'll make sure your sentimental furniture finds a house with a charity organization like Goodwill or Habitat for Humanity. Even if your furniture is too damaged to donate, we'll do our best to recycle it properly.
Estate clean-out services
Going through the belongings of a loved one who has passed can be emotionally draining. And the same goes for moving to a new home. So whatever the case, let us take the burden off your shoulders. We'll listen carefully to your instructions and do all the labor for you. Our Fort Collins estate clean-out service is the best in the area. Our team is sensitive and respectful, so we will never rush you, and we will give you enough time and respect to let go of your beloved belongings. 
Electronics recycling service
Getting rid of electronics poses a considerable problem. Not only will the local garbage disposal company refuse to get rid of it, but they are also cumbersome and space consuming.  We can help you in this regard. Whether it is an old tube TV or some random gadget or computer, we can take care of it.  The landfill is always our last option, so we will first try to donate the item or recycle it in an environmentally friendly way.  Give us a call if you need electronic recycling services in Fort Collins.
Carpet disposal and recycling service
All you have to do is show us the carpet you want to be removed, and our team will get rid of it. We'll carefully lift off any furniture, remove the carpet, clean the floor and return the furniture. Old carpet removal can be a hassle, and for a busy person like you, you don't have time to worry about things like this. Call us and we'll have our carpet disposal team take care of the job for you.